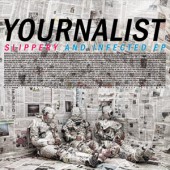 The progressive pop-rock group Yournalist is set to release their debut EP 'Slippery and Infected EP' on the 4th of May 2011. The trio have spent the last year playing frequent shows while carefully crafting their debut EP. According to the band, these five songs are ready to blow away anyone listening.
"The overall tone in our live shows is pretty raw. We didn't want the EP to have exactly the same feel to it, so we included violins and other instruments we haven't had in the live set. But the common factor in both the live show and the album is the uncontrolled, yet carefully thought-out chaos." -Mikko (drums)
The arrogant combining of numerous different influences can be considered Yournalist's speciality. Their influences include The Beatles, Vampire Weekend and The White Stripes, among others. Yournalist was born in the archipelago outside Turku in 2009. Things happened as if by accident when Santeri Ruohonen (bass), Oskari Ruohonen (vocals, guitar) and Mikko M. Koskinen (drums) decided to go spend an innocent weekend at the summer cottage. They left with a dozen songs and a band. Now Yournalist is ready to include itself into the group of recording artists. This young band already has plans for the future, and the aim has been set high;
"Our goal is to get one of our songs into the 'Guitar Hero' game. And we'd also like to play some shows." -Santeri (bass)
You can download the opening track of the EP, 'Nigerian Girl' for free from the band's website. The music video for 'No Time To Kill You' will be released soon. The EP is being released by Drink Tonight Records.
Record Shop X (worldwide shipping)
8raita Record Store (shipping to Finland)
iTunes