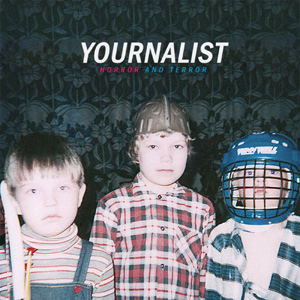 Turku, Finland -based supergroup Yournalist has just released their first album "Horror and Terror".  The album is a mixture of pop-rock songs played with a heavy metal attitude and the arrogance of progressive music. "C'mon People" is the first single/video from Yournalist's self-produced album. The album was mixed by Sylvia Massy, a world-class studio engineer from California, who has worked with such acts as Tool, Johnny Cash, System of a Down and Prince.
Horror and Terror was recorded at hunting cabin in the archipelago of Turku. One might think that the peaceful countryside wouldn't be an ideal place to record an energetic rock album. But one would think wrong. It was one hell of a cabin fever all fall long! Without the deaths, of course. And after six months of isolation from the outside world, Yournalist finished recording an album that comes near, breaks through and forces you to dance.
Yournalist was formed by accident in 2009 at the very same hunting cabin, when Oskari Ruohonen (Guitar, Vocals), Santeri Ruohonen (Bass) and Mikko M. Koskinen (Drums) decided to spend an innocent weekend at the summer house. The result was a hangover, twelve songs and one band. And now the band is ready to include itself to the group of recording artists. Yournalist describes their music as "Music for people with unprejudiced minds who are tired of dullness." About a year ago Yournalist released a critically acclaimed EP "Slippery and Infected" which resulted in being chosen as one of the "Twelve bands to watch in 2012" by Finland's #1 music mag, Rumba and a national radio channel YleX.
Horror and Terror was released by a fresh indie label Drink Tonight
Records. The record release tour starts from Turku on the 21st of April.
The official record release party will be held in Helsinki on the 19th of
May. Get your copy now!
CD:
8raita Record Store
Record Shop X
VINYL+MP3:
8raita Record Store
Record Shop X
Digital:
iTunes